East Coast Beach House Getaway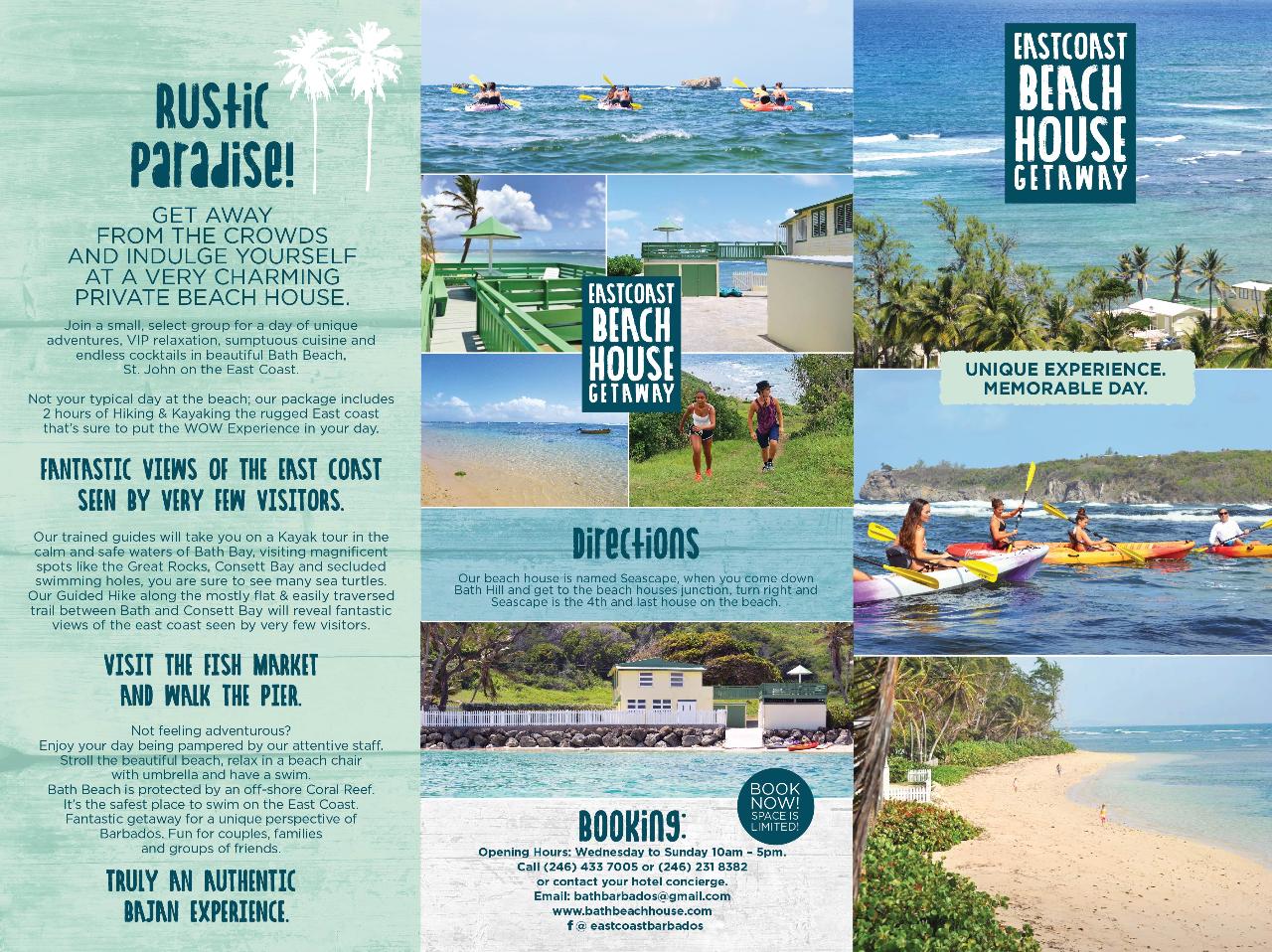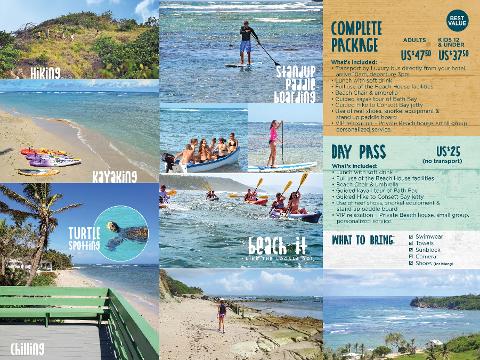 Duration: 5 Hours (approx.)
Location: Worthing, Christ Church
Product code: P0L0WY
Find Paradise! Get away from the crowds and indulge yourself at a very charming private beach house.
Join a small, select group for a day of unique adventures, VIP relaxation, sumptuous cuisine and endless cocktails in beautiful Bath Beach, St. John on the East Coast. Truly an authentic Bajan experience.
Not your typical day at the beach; our package includes 2 hours of Trekking & Kayaking the rugged East coast that's sure to put the WOW Experience in your day. On trained guides will take you on a Kayak tour in the calm and safe waters of Bath Bay, visiting magnificent spots like the Great Rocks, Consett Bay and secluded Swimming holes, you are sure to see many Sea Turtles.
Our Guided Trek along the mostly flat & easily traversed trail between Bath and Consett Bay will reveal fantastic views of the East coast seen by very few visitors. Visit the Fish market and walk the pier.
Not feeling adventurous? Enjoy your day being pampered by our attentive staff. Stroll the beautiful beach, relax in a beach chair with umbrella and have a swim. Bath Beach is protected by an off-shore Coral Reef. It's the safest place to swim on the East Coast.
Fun for Couples, Families and groups of friends.
Package Full: Adults Bds$95.00, Kids & under 12 Bds$75.00
Transport by bus directly from your hotel, arrive 10am, departure 3pm.
Unlimited Premium Drinks. Sumptuous Cuisine – Canapes & Bajan Lunch Buffet.
Adventures include – Kayak, Trekking, Stand Up Paddle, Swimming, Snorkeling & Reef walking.
VIP relaxation – Private Beach house, small group, personalized service.
Day Package: Adults Bds$50.00, Kids 4-9yrs Bds$35.00. Infants under 3 are free! This includes Lunch with a drink, use of the facilities, beach chair & umbrella plus Guided Hike and Guided Kayak
What to bring: Swimwear, Towels, Sunblock, Camera, shoes for trekking.

Direction: Our beach house is named Seascape, when you come down Bath Hill and get to the Beach houses junction, turn right and Seascape is the 4th and last house on the Beach.